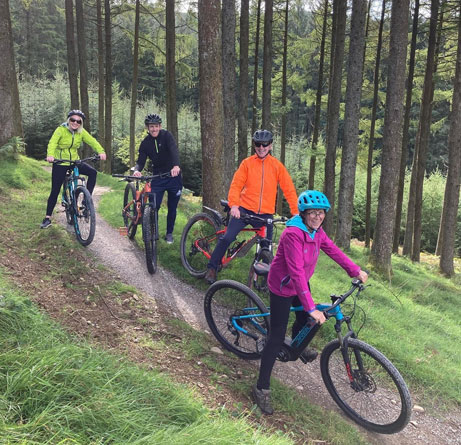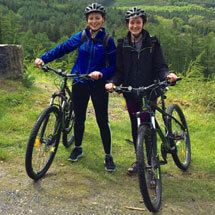 Mountain Bike Rental
Explore the glorious Slieve Bloom mountains with one of our touring or MTB bikes. We provide MTB rentals from the Slieve Bloom MTB Centre at Kinnitty village.
Choose from a selection of Full-suspension, Hardtail, or electronic MTB bikes.
Chat with one of our MTB leaders who have an in-depth knowledge of bikes and the Slieve Bloom Mts All our bikes include helmets and unlike some of our competitors our customers are covered under our public liability insurance.
Book your bike today
---
Price
E-Bike 6 hours €85, 3 hours €60
Full Suspensions 6 hours €85, 3 hours €60
Hardtail 6 hours €55, 3 hours €40
MX Junior (kids) 6 hours €45, 3 hours €25
Terms & Conditions of Hire
The customer agrees to return the bike in clean, UNDAMAGED condition to avoid any ADDITIONAL charges for the repair, maintenance, or replacement. The customer accepts the use of the equipment, as is in good condition, and accepts full responsibility for the care of the equipment while under his/her possession. Damaged parts or components will be repaired/replaced at the shop's discretion and the customer agrees to pay regular shop rates and retail prices for components replaced.
Customers fully recognize that if injury, illness, death, or damage occurs to you while engaged in renting a bicycle or participating in cycling, you will have no right to make a claim or file a lawsuit against Mid Ireland Adventure/Slieve Bloom MTB Centre or its affiliates, officers, agents or employees, even if they or any of them negligently cause injury/my child's injury, illness, death or damage.
identity
Hirers must provide identification showing permanent address (photo license or similar) and car registration number. The right to hire is at the discretion of Mid Ireland Adventure/Slieve Bloom MTB Centre.
Security Deposit
Credit Cards are withheld. Customer is responsible for bikes, and other equipment including lost, stolen, or damaged items in their care, and agrees to reimburse the Mid Ireland Adventure/Slieve Bloom MTB Centre with the full cost of replacement or repair.
Returns after stated return time, there will, be an additional charge of €10 half hour overdue.